No one likes to receive a letter from a lawyer, especially one claiming that you've done something wrong, like infringing someone's copyright. That's exactly what Affordable Aerial Photography, Inc., and its proprietor, Robert Stevens are doing: employing law firms to send demand letters to people who might have a photograph on their website that Affordable Aerial claims is infringed. They demand incredibly high sums of money for a photograph that is likely worth only $150. But because of the law, they can make serious threats about what you may have to pay in a lawsuit if you don't cough-up what they demand right away. It's not a letter you should ignore, because Affordable Aerial does file lawsuits. Lots of them. If you received such a letter, call me, and we can talk about it. I've represented defendants against Affordable Aerial Photography, and have obtained key insights into how to defend against its claims.
Affordable Aerial Photography is currently using two law firms, CopyCat Legal (apparently a marketing front for Daniel DeSouza's law firm, DeSouza Law, P.A. and James D'Loughy's law firm, Advisor Law PLLC). Another firm used by Affordable Aerial Photography is SRIPLaw with Craig Wirth, and Joel Rothman. They are filing a new lawsuit every month or so, and likely sending nastygram cease and desist letters to website owners on a weekly basis. Other copyright owners (some may call them trolls) which those firms may represent include Blaine Harrington III, Panoramic Stock Images, Ltd., and others.
Here's an example of one such demand letter: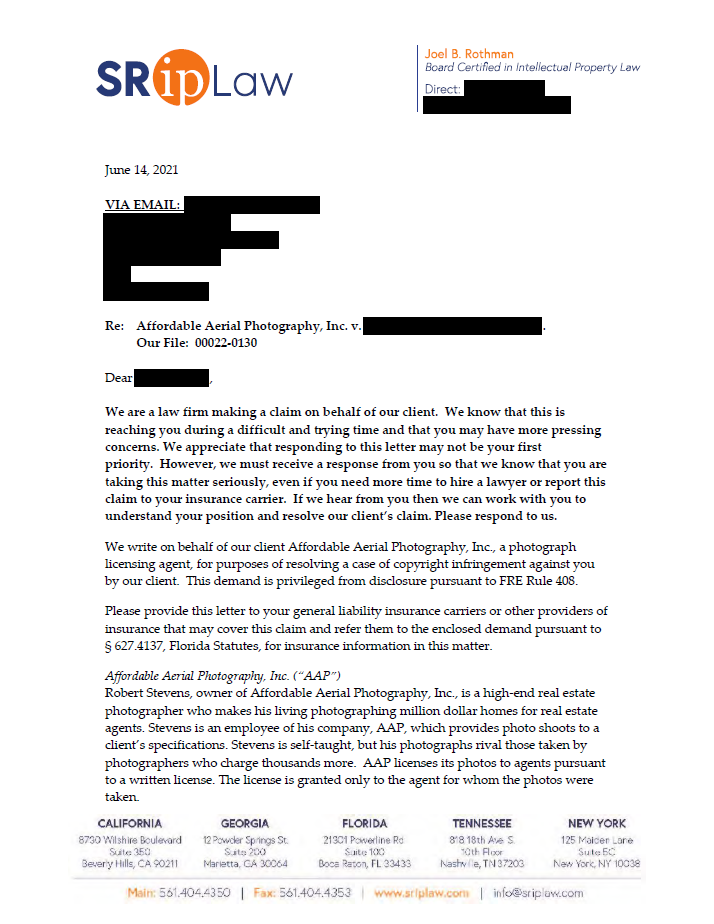 Affordable Aerial Photography filed that letter in a lawsuit, and is therefore public record, though the case number and defendant have been redacted. If you don't respond, you might receive a second letter, this time threatening a lawsuit: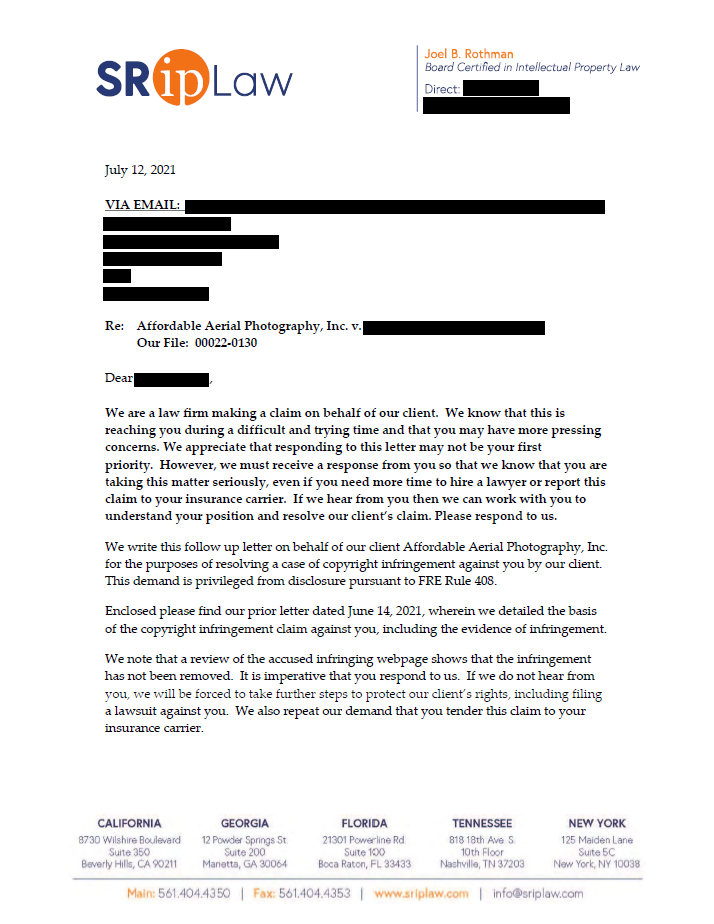 Or you might have received Daniel DeSouza or James D'Loughy's letter from CopyCat Legal:
One of Affordable Aerial's favorite targets are Florida real estate brokers and agents. Robert Stevens does a lot of real estate photography, and those images are used for property listings. Another agent might use a listing's image for their own marketing, not realizing the image is copyrighted. That might be infringement, or it might not. It depends. But the value of the use (even if not accidental, or innocent infringement) is almost certainly far less than the $30,000 initial settlement demands that Affordable Aerial Photography makes even before a lawsuit is filed:
If you received one of these letters, a big mistake would be to not respond to it, or ignore a lawsuit if you were served with a complaint. Affordable Aerial Photography can be quick to obtain a default judgment, and if it gets that, it may seek to garnish your wages or take your property to satisfy the judgment. A default judgment will almost certainly more than the true value of the case if it were properly defended (even accounting for attorney fees to fight it). The caselaw that CopyCat Legal and SRIPLaw cite in their court documents (and demand letters) are only half the story. They're cases they know are helpful to their client. Naturally, they're not going to tell you about those cases that hurt Affordable Aerial Photography. Knowing those other cases that are favorable to you as a defendant is key. That's where finding a the right lawyer is paramount, and responding on time equally important.
Another mistake would be to hire a lawyer to represent you that doesn't specialize in intellectual property. You wouldn't hire a plumber for your electrical problem, so don't hire a general practitioner or your divorce attorney to fight your copyright infringement case.
Klema Law has been quoted in the Orlando Sentinel and Sun Sentinel news and represented multiple clients against CopyCat Legal, and obtained key information about how to effectively defend against claims of infringement. If you've received a cease and desist letter, or been served with a lawsuit, contact me.
Affordable Aerial Photography's lawyers are very aggressive, and you need an advocate who won't crumble in the face of their threats.